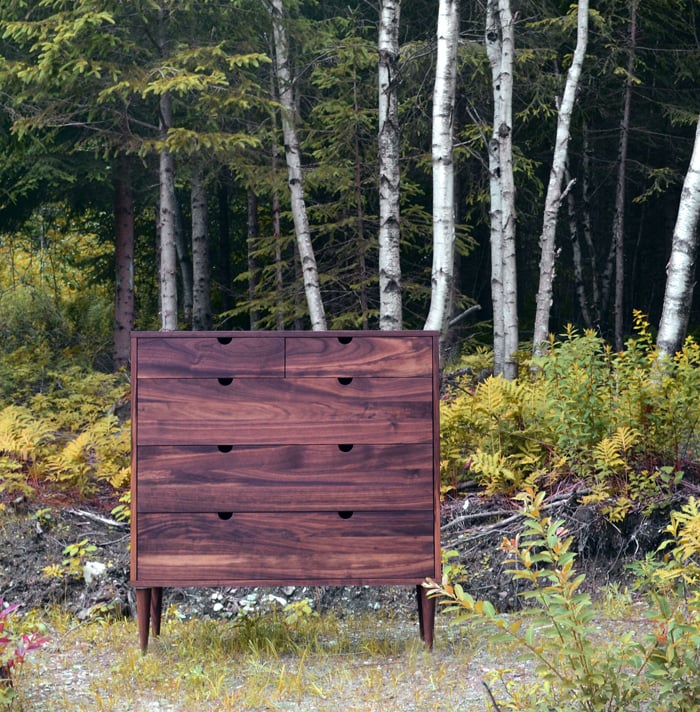 Commode . Dresser
$

2,500.00
---
---
La commode s'insère dans la collection de meuble en noyer pour la chambre à coucher. Tout comme le lit et les tables de nuits, ses lignes sont simples et intemporelles. Elle a trois grands tiroirs pour vos vêtements et deux autres pour les plus petites choses .
La commode est fabriquée sur commande et le temps de fabrication est de deux mois. Elle est expédiée avec FedEx Freight au Canada et aux États-Unis. Elle requiert un assemblage minimal : seules les pattes doivent être vissées sous le meuble. Aucun outil n'est nécessaire.
Contactez-nous pour plus de détails et pour passer une commande.
Hauteur : 38 1/2" | Largeur: 37" | Profondeur : 15"
.

This dresser is part of our walnut furniture for the bedroom. Just as the bed and the nightstands, it is simple and timeless. It has three big drawers to store you clothes and two small ones for the tiny things.
The dresser is made to order and lead time is about 2 months. It is shipped with FedEx Freight across Canada and USA. Minimal assembly required : only the legs need to be screwed under the furniture. No tools are required.
Contact us for more details and to order.
Height : 38 1/2" | Width : 37" | Depth : 15"